My trip to the Ludwig Museum
So today was school field trip day, something I was told on the first day of meetings. I knew it was going to be an early morning because we were going to Budapest, and we live four hours away, on a good day. I was told to be there around 6:45am because the bus was leaving at 7am. When I got there, I was stared at by the kids, because many had never seen me before so I just waited for everyone else to arrive.
We did finally leave just after 7 and I knew it was going to be a long bus ride. We stopped once on the road at a gas station and I was continuously asked in Hungarian and English if I was cold. I am not sure how many time I was told a girl who doesn't wear socks will be sick. I want to see the amazed looks on their faces when i show up to school tomorrow NOT sick. After finally making it into Budapest we took a short tour through the city along the way to the Ludwig Museum on the Pest side. We were an hour early, considering we left five hours before we were due to arrive for our appointment, so we had to wait. We walked around the area, entered the labyrith and climbed a small building all while waiting to go into the museum.
When we did enter it was amazing, the building is only three years old, so everything is still in great condition. I was told we were going to see an exhibit by an American graffiti artist so I really did not know what to expect. We were divided into three groups, ours with 6 adults. We went into the first area and were told that the children could only go into three of the eight rooms because of the nature of the photographs. Looking at the pictures by Keith Haring it appears that they are jusst simple drawings, but after exploring other rooms with the principal of my school Szsanyi and another teacher, Janos, my impressions changed. This would be considered very tame...
Walking around a room of pornographic prints and pictures with men who are probably twice my age just laughing at them all is really funny. I do not know how to describe looking at these pictures, depicting sexual positions as well as beastiality, but at least only Janos could speak a little English so it was mainly a bunch of looks between the three of us. This continued into the next area where Modern Art was displayed. Honestly, I am not sure how many of the pieces are considered art, but there were a couple Picasso's, a Jasper Johns, a Roy Lichtenstein and a couple Robert Rauschenburger. The best out of these was a nice painting by Robert Hamilton, Soft Pink Landscape, and then I noticed what the soft pink was...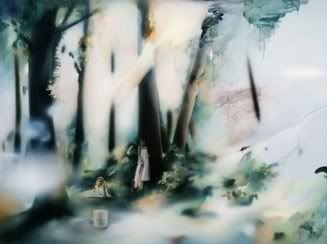 After the museum we got a short tour of the concert hall that was attached to the building. It is like a theatre at home and has a wide variety of things, including operas, musicians and performances. It is new so it does not really compare to the theatre hall back home but I might consider going to see a show, although the other Opera Hall in Budapest looks so much nicer.
After making our way back through Budapest rush hour traffic, we finally got back on the highway to start making the trek home, or at least that is what I thought. Seconds after getting on the highway we pull over to a station that just happens to have a McDonalds. The children literally went crazy and wild, I am really surprised about this because Mariapocs does not have a McD's, but I guess they must travel a lot. The other teachers kept asking me what I wanted so in the end they bought a hot chocolate and a small fries for me. I am sad to say that they taste exactly the same as home. After spending nearly an hour in the McD's we finally got back on the bus and got ready for the bus trip home. About 30 minutes into the trip the children started to get restless so the teachers decided it would be a good time to start singing. I was amazed with how this worked out. Singing songs for the next 2 hours kept them entertained and on relatively good behaviour. I was eventually asked to sing and Edit said I should sing Old MacDonald. I did. I got a great applause after my third verse. The kids here must really like to sing because they sang so many different songs.
By about 7:50, we started down the road to Mariapocs after a very long and cold day. I have to say, overall, I am surprised with the children. The kids were from the 3rd to 6th classes and acted very appropriately at almost every moment. I really just hope they behave like that when and if I ever have to go into their classes.